Mirrors for sanitary conveniences
Mirrors for WC cubicles can have different sizes, depending on design of the room. There can be separate mirrors or one large complete mirror with no visible joints. There can be a mirror wall above sinks, as a designer decision.
Anyway, mirrors in WC rooms will be of high quality, with fast and professional installation.
You can use our mirrors not only in WC rooms, but also in fitting rooms in sports and health institutions, or in shops.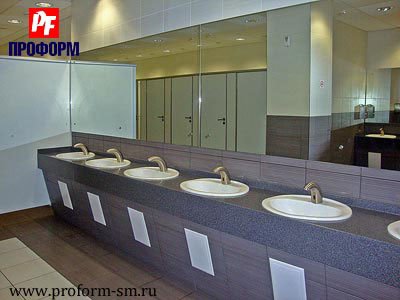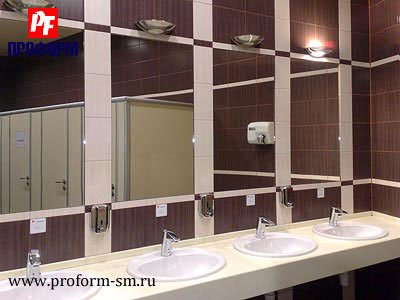 Mirrors for WC rooms: mirror, mirror on the wall, who`s the prettiest of them all?!
In your own house you can look like you want, but it is not so in public places. You should keep your image here, look "fresh as a daisy" or like a princess, if you want. Be no means you can make a miss, but, unfortunately, it can happen. Moreover, through not our faults: someone can get dirty occasionally, someone will get eyewinker, that can displace a lense.

Anything can happen, and there are special places, where you can solve small problems – public toilets. These toilet rooms are not simple, they contain all necessary things, including mirrors.

Mirrors for WC rooms. How could we help without it! We would walk untidy from office to office, from reception to the conference hall, walk and get a lot of comments from each other. That`s ridiculous! So, let`s have a look at the mirrors for WC rooms and bless them for the truth, that eventually helps us to look like a million dollars!
For a material there is no information on color
Mirrors for WC rooms is a complex and non-standard project construction. Each building is unique, it has it`s size and peculiarities: columns, ledges, borders etc. So, mirrors must be made, considering all necessary sizes and peculiarities of the building. That`s why we can`t say particular price. We need calculations of the cubicles according to Your drawings and schemes. Then it is necessary to make measurements on the object and to check the calculations.
On the other side, to understand what budget should be allocated for purchasing and installing mirrors, each Client wants to know at least approximate price of the materials at once.
That's why, we publish approximate price of purchasing mirrors, the Client can be oriented on.
If the order is over 50 standard mirrors, the price of mirrors starts from 1190 rub/m2 not considering delivery and installation.
Please, confirm the price of mirrors under 50, and the price of non-standard mirrors separately.
Call us! We are glad to offer the most profitable conditions for You!
Goods of this category