WC cubicles for sanitary conveniences from monolith plastic, serie "PF monolith"
Characteristics of WC cubicles from monolithic plastic (compact-laminate), serie "PF monolith", 12mm thick with flanks made of stainless tube, make such toilet cubicles very popular. Main advantages of such cubicles are:
Pre-fabricated construction
Simplicity of operation
Sanitariness
100% resistance to moist
Extreme erosion-resistance and safety
Extreme erosion-resistance significantly increase durability of the product within ordinary conditions. In condition of extreme pressure it is notable for it`s safety in operation. So, you can use cubicles, serie "PF monolith" in the following conditions:
rooms with high publicity
administrative and office buildings
schools and higher education institutes
medical centers
entertainment and leisure complexes
sports centers
transport infrastructure facilities
Industrial complexes
Shopping centers
You can use this type of WC cubicles in a wide range of cases, as its 100% water resistance gives opportunity to use it not only for sanitary rooms, but also like shower cubicles.
Scheme and specification of WC cubicles from plastic, serie "PF monolith" with the fittings Amig (Spain):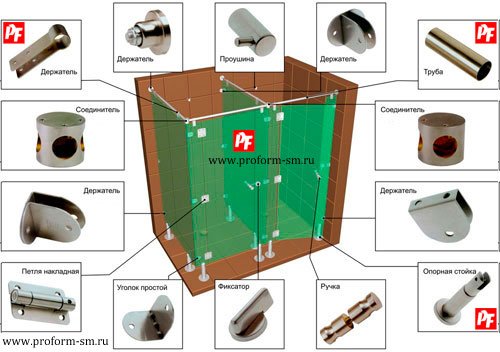 Junction to the wall outside

Junction to the wall inside

Door handle and lock. Exterior

Door handle and lock. Interior

Door hinges. Exterior

Door hinges. Interior

Steel legs
Characteristics of WC cubicles from plastic, serie "PF monolith":
| | |
| --- | --- |
| Pannels | Compact-laminate 12mm (monolith plactic) |
| Standard panel color | white, grey, beige (using the catalogue of the producer) |
| Flanks | stainless tube |
| Door thickness | 600mm (for invalid cabins 900mm) another sizes are also possible |
| Cabin depth | 1500mm ( doors opening to the outside), 1200mm (minimum doors opening to the inside) |
| Cabin general height | 2040mm |
| Height from the floor | about 150-170mm |
| Door hinges | stainless steel |
| Legs | stainless steel with decorative onlays |
| Fittings | Production of PBA (Italy), Amig (Spain) |
Toilet cubicles - is a complex and non-standard project construction. Each building is unique, it has it`s size and peculiarities: columns, ledges, borders etc. So, cubicles must be made, considering all necessary sizes and peculiarities of the building. That`s why we can`t say particular price. We need calculations of the cubicles according to Your drawings and schemes. Then it is necessary to make measurements on the object and to check the calculations.
On the other side, to understand what budget should be allocated for purchasing and installing WC cubicles, each Client wants to know at least approximate price of the materials at once.
That's why, we publish approximate price of purchasing toilet cubicles, the Client can be oriented on.
If the order is over 50 standard cabins, the price of WC cubicles for toilets, serie "PF monolith", starts from 8690 rub/m2, not considering delivery and installation.
Please, confirm the price of cabins under 50 cabins, and the price of non-standard cabins separately.
Call us! We are glad to offer the most profitable conditions for You!
Goods of this category