Lockers from HPL for fitting rooms
Advantages
We offer a series of lockers for changing rooms pool of different modifications: Sectional (from one to six sections in the block), Z-shaped series "Piano", for athletes, as well as safe deposit section.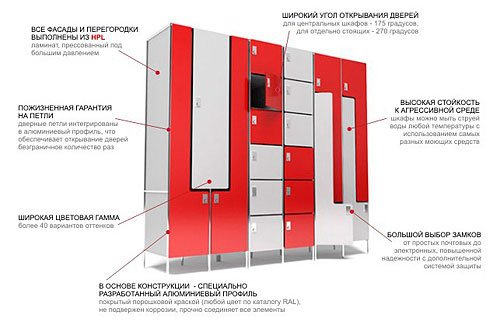 Advantages:
All surfaces and cubicles are made of HPL (laminate, pressed under a high pressure)
Life-time guarantee for hinges (door hinges are integrated into aluminum section, providing constant door-opening)
Wide range of colors (over 40 variants)
Construction is based on the special aluminum section (covered with a powder paint (any color from RAL catalogue), resistant to corrosion, all elements are hard-joined)
Wide angle of opening doors (175 degree for central lockers, 270 degree for separate lockers)
High resistance to aggressive conditions (lockers can be washed with the running water of any temperature, using different detergents)
Wide range of locks (from simple post locks to the electronic lockers of raised safety with the additional protection system)
Lockers for fitting rooms in the swimming pools - what are they notable for? However, modern developments allowed to estimate all comfortable advantages in a new way: plastic lockers for swimming pools (for fitting rooms - made of hpl) became original, functional and convenient in exploitation. Purchasing of the locker for swimming pools in "Proform-SM" means to buy a high-class good – cheap furniture made of practical materials, resistant to moisture and long exploitation, doesn`t loose attractiveness.
Decent analogue to HPL are plastic lockers for swimming pools. They are also resistant to moisture and can be exploited within a long period of time. Plastic can be easily washed, the price is reliable. Where can you buy modern practical furniture: plastic lockers for swimming pools and also lockers made of HPL? You can purchase any variant you like in our company. Selling of functional furniture for specialized rooms is one of the main directions of our work.